Yamaha and Audinate Webinar: How To Upgrade Your Dante Network - November 14th
Yamaha and Audinate Webinar: How To Upgrade Your Dante Network - November 14th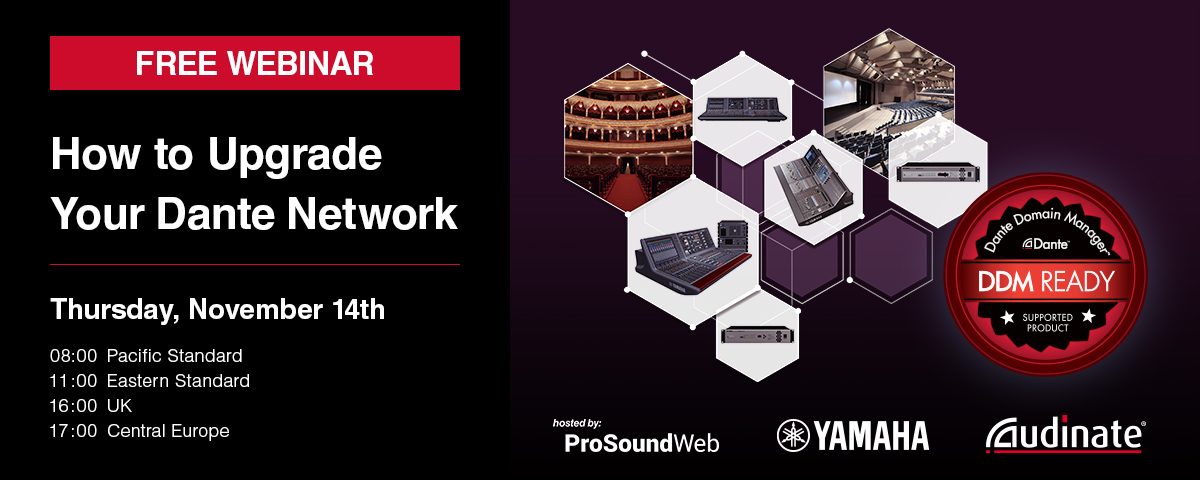 Dante networks vary greatly in size and complexity, from two devices with two channels, to hundreds of devices with thousands of channels. Whether they include huge digital mixing systems like Yamaha's RIVAGE PM10 or a more modest matrix processor like MTX5-D, what they all have in common is the easy ability to expand and to improve their management interface. Please join us if you are considering how to add more devices, or larger devices to your Dante network. Or join us if you are wondering how Dante Domain Manager will benefit your installation. Taking a real-life example of a campus-wide audio network featuring a large range of Yamaha's Dante enabled devices, we will show how the network can be prepared for increased traffic demands, and how Dante Domain Manager can be introduced to improve security, reliability, and flexibility.
This webinar is suitable for anyone who designs or manages Dante networks, or wishes to take this role in the near future: including sound engineers, sound designers, system designers and AV system integrators for music venues, conference centres, houses of worship, theatres, festivals, education, hospitality and leisure.
Prosoundweb are hosting the webinar, while Audinate's Kieran Walsh and Yamaha's Andy Cooper are the expert presenters, both with over 15 years of professional audio networking experience. Join in and be ready with your Dante related questions for the live Q&A session.
How To Upgrade Your Dante Network
Thursday, November 14th
Yamaha and Audinate Webinar: How To Upgrade Your Dante Network - November 14th