ProVisionaire Control/Touch V3.5 with Advanced System Monitoring
ProVisionaire Control/Touch V3.5 with Advanced System Monitoring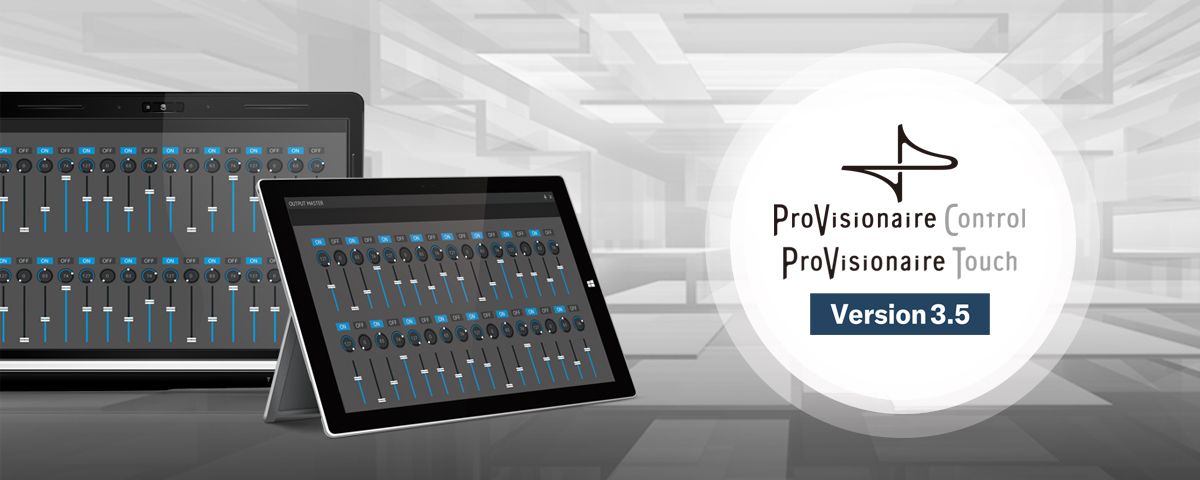 June 11, 2019 — Yamaha announces the latest version of the ProVisionaire Control (Windows) and ProVisioanire Touch (iOS) software application, allowing intuitive creation of original touch panel controllers dedicated to the applications and functions required for an installation project.
This update adds unified monitoring functionality for Yamaha pro audio equipment, allowing in-depth management via audio networks. The number of supported Yamaha pro audio devices has also been expanded. In addition to more controllable devices, it also provides compatibility with video switchers. Design flexibility and operability are both enhanced with a number of new widgets. With significantly improved operation and management capabilities, plus more flexible control, ProVisionaire Control/Touch stands as a unified platform solution that offers outstanding convenience and reliability for a wide range of applications.
The new software will be demonstrated at InfoComm 2019, starting on June 12.
Advanced Monitoring Enhances System Reliability (ProVisionaire Control)
In a theater situation where multiple monitoring function compatible devices such as digital mixers (CL/QL series), I/O racks (Rio-D2 series) and power amplifiers (PC-D/DI series) are distributed throughout the area, a single operator can monitor and manage the entire system from one computer. Not only can faults that aren't visible from the device's exterior be easily and quickly detected, but the log makes it easy to identify precisely where a problem is originating from. ProVisionaire Control is an excellent tool for keeping track of device connection status as well as preventing, detecting, and solving problems. The addition of improved audio system monitoring capability will notable increase system convenience and reliability.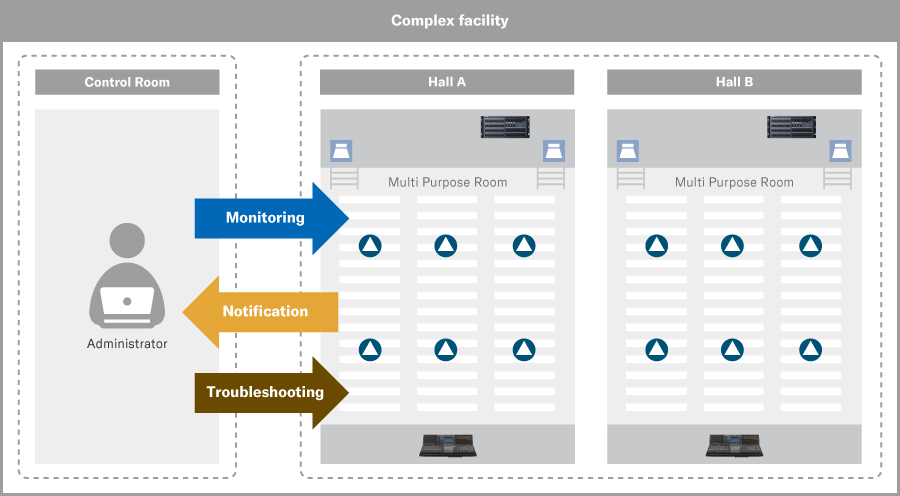 CL5 & Rio3224-D2 : Operating status and fault data stored in the device
Control Room:Data acquired from devices
Comprehensive
Easy to analyze
User notification
More Yamaha Devices Plus IDK Video Switcher Support (ProVisionaire Control/Touch)
ProVisionaire Control/Touch V3.5 supports a number of additional Yamaha pro audio devices. It also supports MSD series video switchers from IDK. Broader compatibility with Yamaha and IDK equipment provides more comprehensive control for conference rooms, halls, multipurpose halls, and theaters that handle both audio and video content.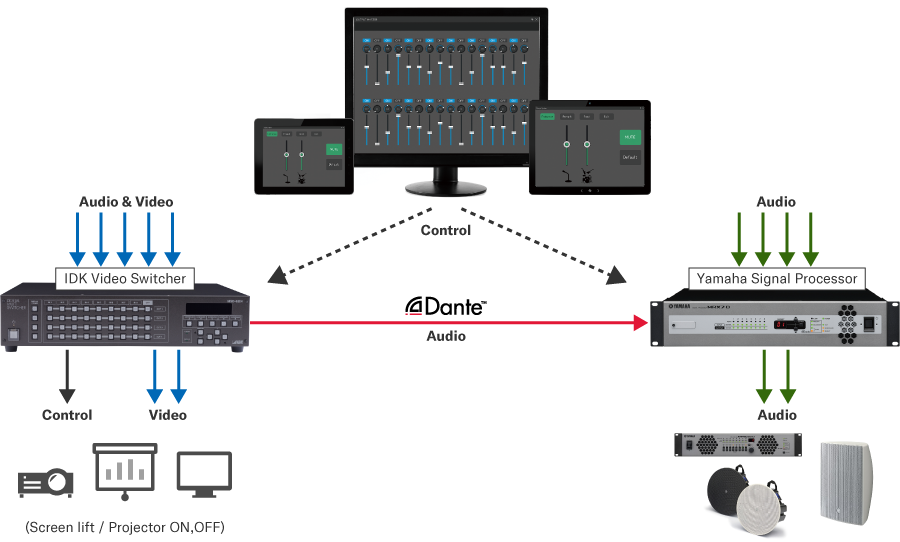 | Product | Model | ProVisionaire Control | ProVisionaire Touch |
| --- | --- | --- | --- |
| Power Amplifier* | PC406-D, PC406-DI, PC412-D, PC412-DI | | |
| Speaker System | DZR315-D, DZR15-D, DZR12-D, DZR10-D, DXS18XLF-D, DXS15XLF-D | | |
| MusicCast Device | XDA-QS5400 | | |
| Video Switcher (IDK) | MSD-501, MSD-502, MSD-701, MSD-702, MSD-6203(-DAN), MSD-6204(-DAN), MSD-6206(-DAN), MSD-6208(-DAN) | | |
*To be supported in a next update.
Improved Flexibility for Management and Operation (ProVisionaire Control)
It is an ideal tool for keeping track of device connection status as well as preventing, detecting, and solving problems. There is also a Line Edit Widget that allows numerical editing of preamplifier gain, frequency, and other parameters via a keyboard, for precise, detailed adjustment of installed gear. And for one-action control of multiple parameters on multiple devices, there's the Button Widget. Use it to recall assigned presets on multiple devices, for centralized power management and other tasks that can contribute to enhanced overall system operating convenience.
Yoshi Tsugawa, Senior General Manager of Yamaha Audio Business Division comments
"Regular updates to our ProVisionaire Control/Touch app have delivered numerous new features and operational improvements, including support for audio-visual equipment and musical instruments as well as pro audio devices. It has evolved to become a multi-faceted control solution that satisfies a wide variety of applications. Version 3.5 offers refined system monitoring capabilities as well as an expanded list of supported devices, now including a number of video devices, making it a more versatile, more reliable platform solution than ever. We have also released the ProVisionaire Amp Editor, an advanced system design tool that offers invaluable support for amp system setup and calibration. The Yamaha ProVisionaire series has grown to encompass every phase of sound system creation, from design to control, monitoring, and management."
About IDK Corporation:
IDK Corporation, is headquartered in Kanagawa Japan with sales, fulfillment and service operations in USA, Europe and Asia. As a customer-focused, Pro-AV equipment manufacturer, IDK designs, develops, manufactures, and rigorously tests our state-of-the-art Pro AV products at IDK's own facilities in Japan.
Product portfolio includes: multi switchers, video converters, matrix switchers, and AV over IP systems. IDK's Pro-AV solutions are in use around the globe, for corporate, educational, entertainment, healthcare, retail and surveillance systems.
ProVisionaire Control/Touch V3.5 with Advanced System Monitoring