Yamaha unveils AV receivers and sound bars with wireless surround, introduces new wireless speakers and subwoofer.
Yamaha unveils AV receivers and sound bars with wireless surround, introduces new wireless speakers and subwoofer.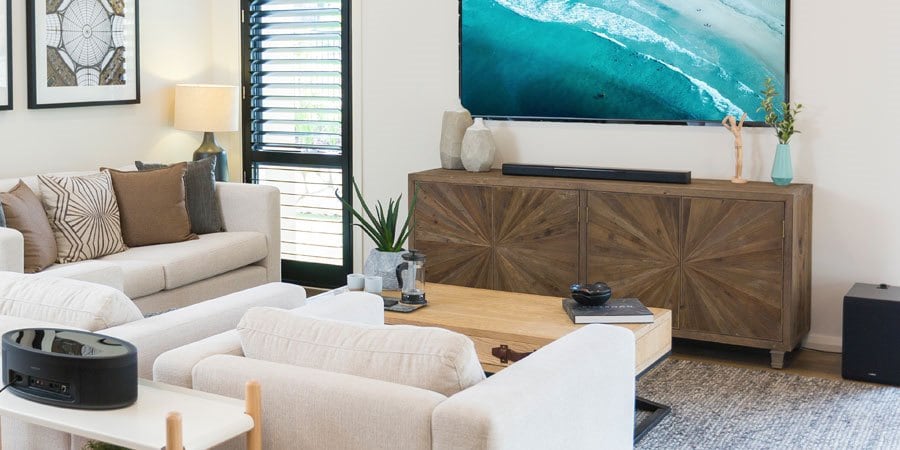 MELBOURNE, Victoria (2 May 2018) – Home theatre enthusiasts know that the best way to build a reliable, versatile and great-sounding surround sound system is to use an AV receiver with wired speakers. For many, this is still a go-to solution that works seamlessly. For others however, it presents a dilemma: how to get wires to the back of the room for surround sound speakers without having unsightly exposed cables. Running speaker wire through walls can be a headache and, for some (such as those who rent their homes), it's simply not feasible to do.
Now, Yamaha gives home cinema fans a choice: wired or wireless surrounds.
Introducing three new 4K AV receivers – the 5.1 channel RX-V485, 7.2 channel RX-V585 and RX-V685 – two new speakers – the MusicCast 20 and MusicCast 50 – and the new MusicCast SUB 100 Wireless Subwoofer. Featuring MusicCast Surround, users are able to build a 5.1-channel surround sound system with wired speakers for the front channels (left, centre and right speakers) and wireless speakers for the surrounds. It also supports the option of using a wireless network subwoofer.
For the first time, MusicCast Surround brings a wireless surround capability to RX-V 85 Series AV receivers, appealing to a broad range of customers at a variety of price and performance levels.
In addition, two new sound bars – the MusicCast BAR 400 with wireless subwoofer included and the standalone MusicCast BAR 40 – will feature the new MusicCast Surround technology, enabling audiences to use two MusicCast 20 or single MusicCast 50 as wireless surround speakers for enhanced surround sound from their sound bar setup.
All new models come fully-loaded with a suite of wireless technologies including Wi-Fi, Bluetooth®, Apple AirPlay® and Spotify Connect. They support built-in streaming services including Spotify, TIDAL, Deezer and thousands of free Internet radio stations – all accessible via the free MusicCast app. They will also feature voice control via Amazon Alexa-enabled devices such as the Echo and Echo Dot.
Additional key features and benefits of the new products:
RX-V 85 Series 4K AV Receivers: All three receivers deliver life-like images to connected TVs with up to 4K resolution at 60 frames per second. The receivers also pass through High Dynamic Range (HDR) video in the HDR 10, Dolby Vision and Hybrid Log-Gamma formats with BT.2020 wide colour gamut (WCG) compatibility delivering a wider, more realistic palette of colours, greater brightness and contrast, and details previously not visible in the darkest and lightest portions of a scene. The RX-V685 offers dual HDMI outputs for simultaneous connection of two displays (ie- both a TV and a video projector).
All three models support HD Audio decoding of Dolby® TrueHD and DTS-HD Master AudioTM sound tracks, while the RX-V585 and RX-V685 also support object-based Dolby Atmos® and DTS:XTM decoding, which adds height effects through overhead speaker channels. All feature Yamaha-exclusive sound technologies, such as YPAO auto-calibration and CINEMA DSP, which transforms the dynamics of the listening environment to recreate the acoustic experience of being in a movie theatre or even a famous music venue.
MusicCast Sound Bars: The MusicCast BAR 400 and MusicCast BAR 40 sound bars provide stunning images when connected to the latest 4K Ultra HD TVs and source players, with encompassing surround sound performance through the use of DTS Virtual:XTM. Both models feature HDMI in/out with ARC and CEC, as well as optical and analogue inputs.
MusicCast Speakers: The versatile MusicCast 20 and high-performance MusicCast 50 wireless speakers stand out for their flexibility. Both can be used as standalone audio systems or with existing MusicCast components for multi-room audio linking or used as wireless surround speakers with MusicCast Surround-enabled AV receivers.
Two MusicCast 20 speakers can be paired in stereo mode. A single MusicCast 50 delivers stereo sound by itself, while using two MusicCast 50 speakers yields an even wider sound field.
In a MusicCast Surround configuration, only a single MusicCast 50 is needed to produce two surround channels. The MusicCast 50 delivers the highest performance of any standalone MusicCast speaker and features a lower profile than competing models in its performance class to fit discreetly into more places at home including under the television with the inclusion of an optical input for enhanced TV sound.
The two models come with more top-panel controls than previous MusicCast speakers, adding an alarm-clock button and three presets to shortcut to your favourite music.
Subwoofer: The MusicCast SUB 100 can be paired wirelessly with the new MusicCast AV receivers as an alternative to a wired subwoofer, allowing for easy placement anywhere in the room. It can also be paired with either a single or two MusicCast 20 or MusicCast 50 speakers. It features an auto-crossover that adjusts automatically depending on which device(s) it is paired with.
Yamaha unveils AV receivers and sound bars with wireless surround, introduces new wireless speakers and subwoofer.