FamilyMart Fit&Go Fitness Club in Tokyo
FamilyMart Fit&Go Fitness Club in Tokyo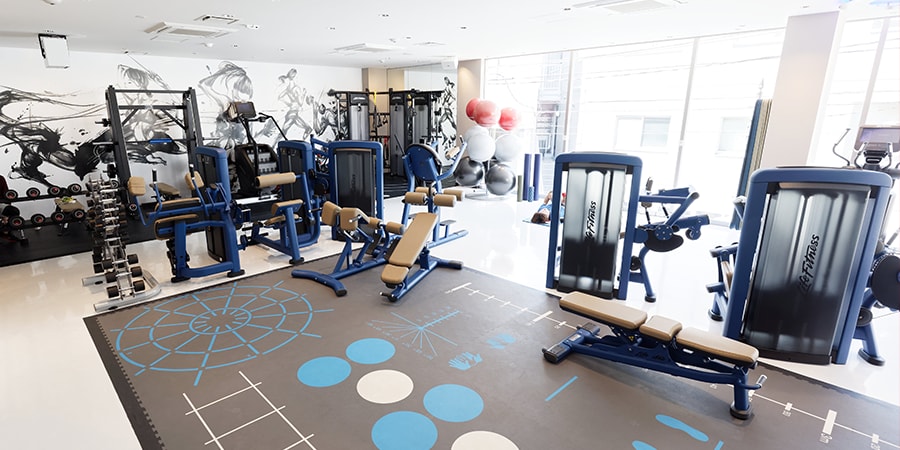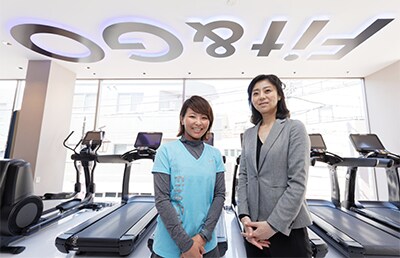 The 24-hour Fit&Go fitness club established in February 2018 near Nagahara station in Tokyo's Ota ward represents a new business venture by FamilyMart UNY Holdings Co., Ltd., a major convenience store operator in Japan. The club is in a prime location close to the Nagahara railway station, above a FamilyMart convenience store on the first floor. Fit&Go is a new style of fitness club that, like the convenience store, offers easy access at any hour of the day or night. A Yamaha BGM system was chosen for Fit&Go, so we spoke to Ms. Tomoko Shigeru, Assistant General Manager of the FamilyMart Sports and Medical Department, New Business Development Division, and Ms. Ai Ikenaga, manager of the Fit&Go fitness club, to learn more about it.
Please start by describing the Fit&Go concept.
Ms. Shigeru:
There are plenty of fitness clubs and training gyms around, but the participation rate in Japan is still relatively low compared to the West. The concept of working out as part of a daily routine hasn't really taken hold. Convenience stores, on the other hand, have become a well-established part of daily life for many people. If there was a fitness club associated with a convenience store, people might feel inclined to work out as freely as they visit the store.
When people go to a normal fitness club they need to take a large bag stuffed with workout shoes and clothing, as well any necessary toiletries. They also need to find the determination to get up and go. Fit&Go members usually show up in their sportswear, bringing only sports shoes, so they're ready to work out and head back home as soon as they're done. Some will do a quick workout when they have the time, and then pick up something to drink on the way home. Fitness becomes an easy-going part of a normal day.

Is synergy between the fitness club and the convenience store part of the plan?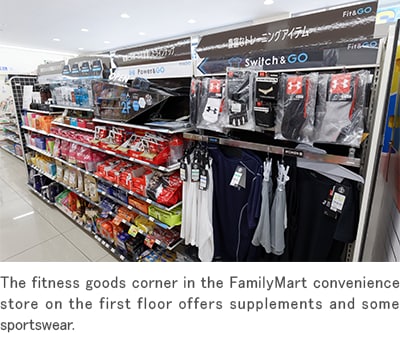 Ms. Shigeru:
Of course. Some people have come to check out the fitness club simply because it is associated with a convenience store. That is one of the reasons we have installed large windows that allow the interior of the fitness club to be seen from outside, and have designed the entrance for an "open feel" and easy access. We also have a corner for fitness related goods in the store, where members can pick up supplements or sportswear items and head straight up to the fitness club on the second floor. People tend to gather at a convenience store, and we hope that the connection between the store and fitness club will make it easier for local residents to add some exercise to their day, thereby improving their fitness and health.
What is the average age of Fit&Go users?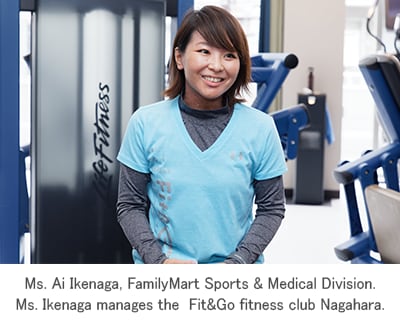 Ms. Ikenaga:
Most are in their 20s or 30s, including guests who come in for a trial. Some are in their 40s. Compared to other 24-hour fitness clubs we have a high percentage of beginners. And whereas a normal male-to-female ratio for a fitness club is somewhere around 8:2, with significantly more men than women, at Fit&Go it is more like 6:4. One of the main reasons for the higher percentage of women at the club is probably the security of its location above a convenience store.
What types of fitness machines and programs are available at Fit&Go?
Ms. Ikenaga:
The first thing people usually do when they enter the club is an aerobic warmup using one of our cardio machines. We have bikes as well as running machines that can also be used for walking. Our strength area provides a number of ways to train specific muscle groups. There is TRX suspension training equipment and rowing machines, plus tubes and balance balls. Our free weight area in the back provides dumbbells, cables, and a Smith machine that can be used to target specific muscles. There is also an area for pre- and post-workout stretches that are vital for body care and conditioning.

There is some great music playing in the club at the moment. Is there anything about the music that you're paying particular attention to?
Ms. Shigeru:
Most people don't like to work out in silence. There will be music playing at just about any sports club you visit, but you might not even notice because of the mechanical noise from running machines and other exercise equipment. Quite a few people bring their own music and listen via headphones, so the volume of the club background music is usually set at a low level that won't interfere. In many cases it is almost inaudible. We decided that if we were going to provide background music at Fit&Go, it must be good music that can be heard clearly. We discussed our BGM requirements with Monstar Lab, Inc. and had them produce two original playlist channels for the gym and locker room areas.

You made two playlists specifically for Fit&Go.
Ms. Shigeru:
Yes. We wanted background music that would match the Fit&Go image. Upbeat, motivating music for the gym area, and music that is a bit more laid-back and relaxing for the locker rooms. Each playlist is 6 hours long, so customers don't have to hear the same music over and over again.
You chose Yamaha audio equipment for the important role of delivering music at Fit&Go. Please tell us about the system.
Ms. Shigeru:
We have two VS6W speakers and one VXS10SW subwoofer in the gym area. Two compact VXS1MLB speakers are installed in the locker rooms, one in the men's room and one in the women's room. The gym speakers are driven by an XM4080 amplifier, and the locker room speakers are driven by a PA2030a amplifier. Both amplifiers are located in our staff room.

Can you tell us why you chose Yamaha?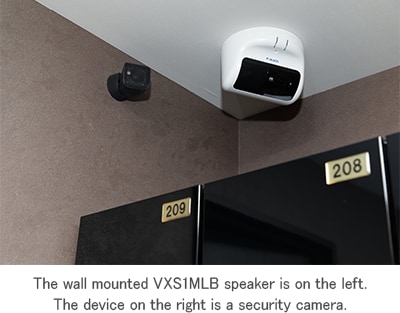 Ms. Shigeru:
A number of the Fit&Go launch team members love music and sound, and are quite knowledgeable in that area. They wanted to deliver music with higher sound quality than is normal in retail stores and fitness clubs, and carefully auditioned a range of equipment before making a final decision. We chose surface-mount speakers not only for their sound, but also because they subtly imply that we are serious about our audio. Yamaha speakers have a refined design that doesn't stand out too much. We also liked that fact that we had a choice of white or black colors. The gym area is white, while the locker rooms are a darker color, so to match those colors we chose white VS6 units for the gym and black VXS1ML units for the locker rooms.
Why did you decide to include a subwoofer?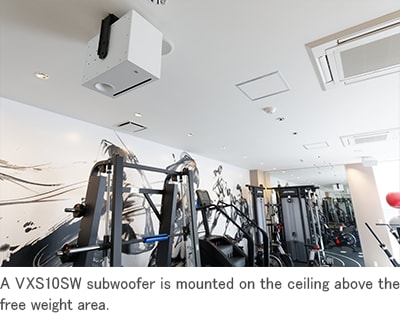 Ms. Shigeru:
I am convinced that as your pulse rises when you exercise, feeling a low-frequency beat with your body can provide a subtle boost in motivation. We were already determined to approach music playback seriously at Fit&Go, so we decided to include a subwoofer that would enhance the interplay between the music and fitness. There wasn't much space available in the gym area, so we suspended the subwoofer from the ceiling. That has turned out very well.
How do you like the Yamaha audio equipment after using it for a while?
Ms. Ikenaga:
The background music system has been running almost continuously without any problems or need for adjustment. We are very pleased about that. All we do is adjust the volume to match the time of day and the number of members present.

Has there been any response from customers?
Ms. Ikenaga:
A number of people who have dropped in to check out the club have mentioned how good the sound is.
Ms. Shigeru:
Sound is important at Fit&Go, and although we play our music fairly loud, no one has complained about the volume or said that it interferes with their workout. When we first opened, some people thought it would be a waste to spend so much on a sound system. They thought nobody would be listening. But the response to our music has been largely positive, and I believe it contributes to the pleasant atmosphere at the club. As a user myself, I have been disappointed with the sound at fitness clubs in the past.
We're beginning to get the impression that Fit&Go is more than just a fitness club. It is an enjoyable space with enjoyable music that people want to visit every day.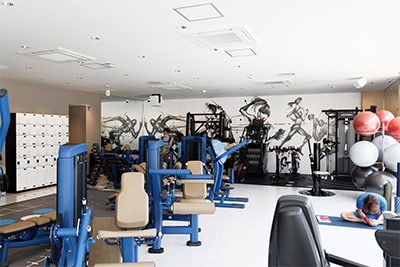 Ms. Shigeru:
Yes. It is a fitness club where training machines and facilities are available, of course, but it is also a comfortable space we call "Fit&Go" where the environment, including the sound, has been carefully considered. I think that differentiates us from other fitness clubs, and hope people notice the difference.
Now that the initial Fit&Go club has been established in Nagahara, do you plan to expand to more locations?
Ms. Shigeru:
FamilyMart plans to open 300 Fit&Go fitness clubs over the next five years. We're hoping that the link between FamilyMart and fitness will help many people to lead fitter, healthier lives. It will also provide a new business model for people running FamilyMart franchises. The combination of FamilyMart and fitness will allow operators and managers to attract many more smiling faces. That is the sort of space we are aiming for.
Thank you very much for your time!

Fit&Go Ota Nagahara
Kami-ikedai 1-43
Ota-ku, Tokyo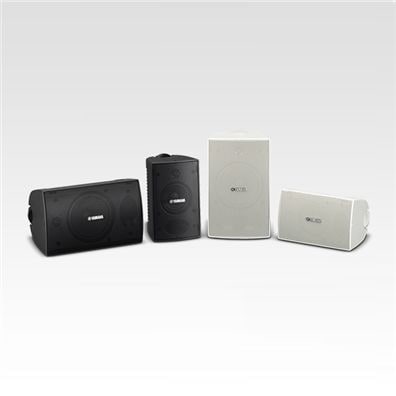 Compact indoor/outdoor speakers for background music or as part of a PA system for announcements.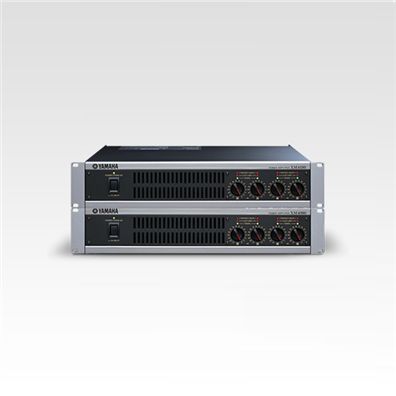 4-channel power amplifiers that are an excellent choice for installations.
FamilyMart Fit&Go Fitness Club in Tokyo