New flagship pre-amplifier/power amplifier launched
New flagship pre-amplifier/power amplifier launched
Absolute Realism. Massive Power.
Launched in 2010, the AVENTAGE brand has symbolised the pinnacle of design and engineering for Yamaha's home entertainment division. In subsequent years, the premium line of AV receivers and Blu-ray players has represented an engineering journey whereby every aspect of the range has been refined and reworked in pursuit of the ultimate home entertainment experience.
"AVENTAGE Separate Components represent the ultimate destination of this journey," explains Justin d'Offay - Product Manager for Yamaha Music Australia's AV Division. "The CX-A5000 pre-amplifier and MX-A5000 power amplifier establish a new era in Yamaha's rich musical history, taking home entertainment to a completely new level with unrivalled versatility and performance."
The pre-amplifier/power amplifier combination, although retaining the AVENTAGE badge, transcends Yamaha's recently launched Series IV, positioning it in a league of its own at the very pinnacle of the company's home entertainment range.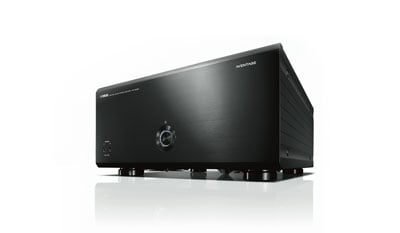 An uncompromising approach to achieving absolute rigidity through chassis design is evident when reviewing the separate components. Vibration control plates on the MX-A5000 made of 1.6 mm black steel, coupled with a double bottom frame, applied on the CX-A5000 also, set the tone for this meticulous approach. Aluminium side panels complement the rigid base, while the unique H-shaped cross frame provides further strength to the housing. A three-ply structure with independent top cover and side panels complete the chassis construction. The signature A.R.T. (Anti-Resonance Technology) wedge, exclusive to AVENTAGE receivers concludes the ultimate in rigid chassis design.
Massive Power denotes the MX-A5000 power amplifier. Providing an impressive 150W for each of the 11 channels (8 Ω, 20 Hz - 20 kHz, 0.06% THD, 2 ch driven), the unique 11 channel configuration delivers absolutely stunning audio to an 11.2 channel home theatre configuration, pushing the boundaries of what we recognise as 'home theatre'.
Other prominent design features of the power amplifier include a current feedback power amp with a three-stage Darlington circuit - noted for its superior phase properties and resistance to speaker impedance fluctuation. The power supply has been specially developed with a high output, toroidal transformer utilised. Combined with two 27,000 μF block capacitors, the MX-A5000 delivers a vast power supply with generous headroom. No less than 11 XLR connections are present on the rear panel of the MX-A5000, providing a balanced signal path from the CX-A5000 for each of the eleven internal amplifiers.
The 11.2 channel
CX-A5000
pre-amplifier features an extensive selection of connectivity options with matchless processing capabilities. Most notable are the 13 XLR terminals, eleven for home theatre or multi-zone purposes with another two inputs for Hi Fi devices such as Yamaha's
CD-S2000
CD player or the acclaimed
NP-S2000
network audio streaming device, which offer completely balanced signal transmission. When paired with the
MX-A5000
power amplifier, the combination delivers unparalleled home theatre performance and system configuration flexibility.
Among the highlights of the CX-A5000, two ultra high-performance ES9016 DACs from ESS Technology provide an extremely high signal-to-noise ratio and dynamic range to ensure the most accurate reproduction of audio from Blu-ray players and other high-definition sources. In addition, Yamaha's proprietary CINEMA DSP HD3 (cubic) technology creates the most enveloping surround sound field utilising four CINEMA DSP engines and front and rear presence speakers in an 11 channel configuration.
Yamaha's critically acclaimed and free-to-download AV Controller app complements a host of network features including high-resolution audio streaming from DLNA devices, AirPlay, Internet radio and Pandora® - a music streaming service which creates tailored Internet radio stations based on a favourite artist, song or genre. The app also acts as a powerful tool in multi-room installations, displaying zone icons and enabling control of power on/off, input selection and volume in each zone.
Promoting flexibility throughout the home, the pre/power combination is capable of delivering up to 5 channels in a bi-amp configuration or up to four independent zones of audio. Advanced HDMI Zone Switching enables various audio and video sources in up to two zones with a dedicated on-screen graphical user interface providing intuitive navigation of the menu in the second zone. Further, video assignment in a third zone via component, S-video or composite is also possible. The MX-A5000 power amplifier features the ability to switch between balanced and unbalanced inputs for all 11 channels, further enhancing the versatility of the system.
The pairing has been recently unveiled to Yamaha's AVENTAGE Dealer Network through a series of intimate presentations across the country. The CX-A5000 pre-amplifier and MX-A5000 power amplifier both have a recommended retail price (RRP) of $3,499 and will be available from early October.
Reflecting the prestige of AVENTAGE Separate Components, Yamaha Music Australia is offering a new flagship 'Diamond Warranty' applicable exclusively to both units. The market-leading assurance provides peace-of-mind to customers with a 5 year warranty period, including a 2 year replacement warranty - if the unit is found to be faulty within the first two years the customer is eligible for a replacement. The warranty adds weight to an already comprehensive product offering.
For more information on AVENTAGE Separate Components, call 1300 739 411.
New flagship pre-amplifier/power amplifier launched