---
I used to be a stickler for vintage drums until I played a Yamaha kit - now I'm sold. The consistency in the tone of Yamaha drums is unparalleled.
---
Biography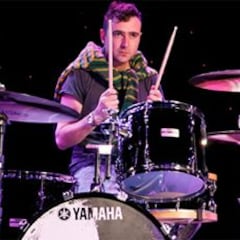 Kim Moyes is drummer, producer and one half of Australian electronic duo, The Presets.
Signed to Modular Recordings in 2003, across two EPs and two award-winning albums and a dynamic live show, The Presets have risen as one of the world's foremost dance acts.
'Apocalypso' their 2008 album, took Australia, and the world by storm. Released in over twenty countries, accolades for the band and the album included six ARIA Awards (Album of The Year, Band of The Year, Best Dance Act, Best Video, Best Artwork), Triple J Network's' Album of The Year', the inaugural SMAC Awards Album of The Year, APRA's Songwriters of the Year, Best Video for 'If I Know You' at the UK Video Awards as well as Triple Platinum Sales in Australia for 'Apocalypso', Double Platinum for 'My People', Platinum for 'Talk Like That' and Gold for 'This Boy's In Love'.
As a solo artist, Kim has released several EPs via Modular Recordings, Rallye-Klee Records and Bang Gang 12 Inches. In 2009, he released a compilation, 'Selected Jerks 2001-2009' (Modular Recordings) which brought together various recordings across eight years.
Kim also has worked extensively as a producer and remixer. He contributed production and instrumentation work to several tracks on Beni's 'House Of Beni' album (Modular Recordings 2011) as well as an EP for The Lost Valentinos. He has also created remixes for the likes of Kings Of Leon, Beni, Sarah Blasko, Toni Toni Lee and Architecture In Helsinki.
The Presets live show incorporates has toured the world over a dozen times in the last five years. Their most recent headline Australian tour in 2009 saw them play to over 70,000 people.