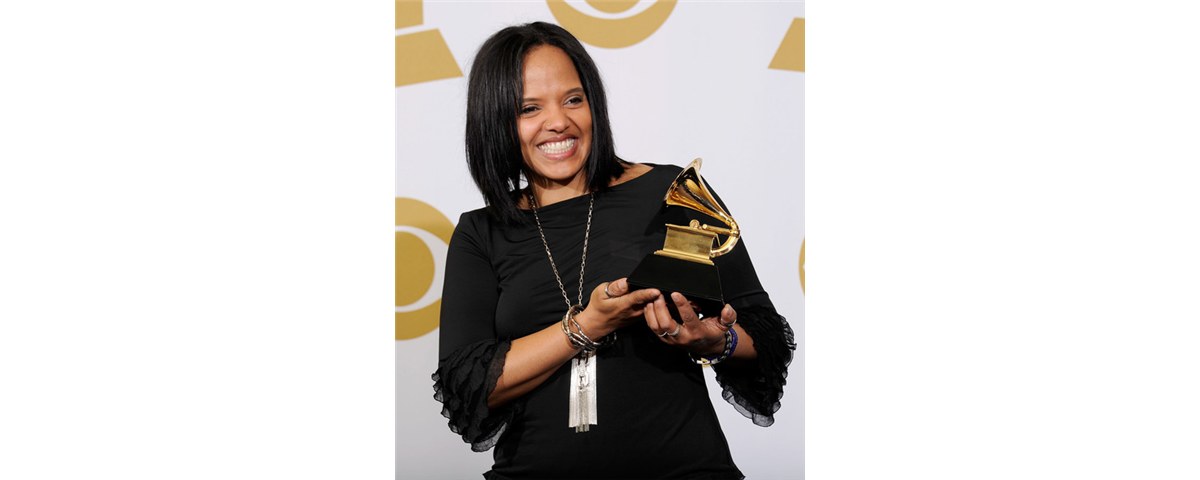 Biography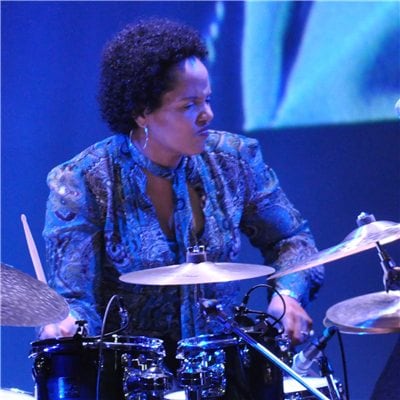 Born in Medford, Massachusetts, Terri Lyne Carrington developed a reputation as a child prodigy, jamming with jazz veterans Dizzy Gillespie, Rahsaan Roland Kirk, Oscar Peterson, Joe Williams, and many more. At age 7, she was given her first set of drums, which had belonged to her grandfather, Matt Carrington, who had played with Fats Waller and Chu Berry.
After studying privately for three years, she played her first major performance at the Wichita Jazz Festival with Clark Terry.
Shortly afterward she received a full scholarship at age 11 to Berklee College of Music where she started playing with such people as Kevin Eubanks, Mike Stern, Branford Marsalis, Greg Osby and others. She also studied under master drum instructor Alan Dawson and made a private recording entitled, TLC and Friends, with Kenny Barron, Buster Williams, George Coleman and her dad, Sonny Carrington, before turning 17.
Throughout high school Terri travelled across the country doing clinics at schools and colleges and in 1983, encouraged by her mentor, Jack DeJohnette, moved to New York and started working with Stan Getz, James Moody, Lester Bowie, Pharoah Sanders, Cassandra Wilson, and David Sanborn.
In 1989, Terri moved to Los Angeles where she became the drummer for the "Arsenio Hall Show". She has also toured the globe with Mike Stern, Joe Sample, Al Jarreau, Herbie Hancock and spiritual mentor, Wayne Shorter. Her debut release on Polygram, Real Life Story, was nominated for a Grammy Award and featured Carlos Santana, Patrice Rushen, John Scofield, Grover Washington, Jr., and Gerald Albright.
Recently, she has concentrated her efforts on writing and producing with various artists including Gino Vannelli, Dianne Reeves, Siedah Garrett, Marilyn Scott and Danish pop singers Stig Rossen and Monique. Her production of Dianne Reeves' Grammy-nominated CD, That Day, hovered at the top of the charts for many months. Terri was also the drummer on the late night TV show, "VIBE", hosted by Sinbad.
In 1998, she recorded along with Joni Mitchell and Stevie Wonder, Herbie Hancock's CD, Gershwin's World and is currently touring with both his electric and acoustic bands. Her latest solo CD, Jazz Is A Spirit, (released in March 2002 on the ACT Music label) has enjoyed considerable media attention and critical acclaim in the European and Japanese markets.
2012 Terri Lyne Carrington's "The Mosaic Project" received a Grammy award as the "Best Jazz Vocal Album"!
The Mosaic Project is an all-female group that includes some seriously talented and versatile artists. In addition to main vocalist Esperanza Spalding, prominent jazz vocalists such as Dianne Reeves, Cassandra Wilson, Dee Dee Bridgewater and others take turns at the microphone as well. Pianists Geri Allen and Patrice Rushen supply some stunning keyboard accompaniment, while Tineke Postma sits in on sax. Shiela E works with Terri Lyne on the rhythm. The list of musical luminaries is too long to include here … so we recommend that you check out the album!
On why she chose the all-female format of the band, drummer and producer Terri Lyne Carrington says: "If I had tried to do something like this in the past - like when I started playing 25 years ago - I might have felt limited by the pool of available musicians. But now there are so many talented women whom I've been playing with anyway - not just because they're women but because I love the way they play. So it has become easier to do a special project that celebrates the artistry and the musicality of these women."
The songs on the album cover a wide variety of musical genres, including fusion, funk, R&B, Latin, African, and more. Each and every song is delivered with an outstanding blend of artistic passion and musical technique. This is a must-hear!