---
A lot of instruments corner you. They put their own stamp on your playing. Regardless of the style of music I am playing, whether it's new music, or Baroque or I'm playing in an orchestra, I'm still able to do whatever I want and it's not pigeon-holing me into one sound.
---
Biography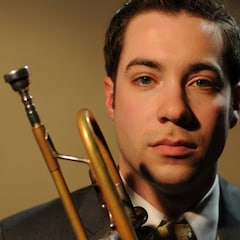 Joel Brennan enjoys a diverse career performing as an orchestral, chamber, and solo musician. Joel has performed with orchestras around the globe, including the Melbourne Symphony Orchestra (Australia), Seoul Philharmonic Orchestra (Korea), Rotterdam Philharmonic (Netherlands), Winnipeg Symphony (Canada), Malaysian Philharmonic, and Bilkent Symphony Orchestra (Turkey), and has served as principal trumpet of the Hyogo Performing Arts Center Orchestra (Japan) and Amsterdam Symphony Orchestra (Netherlands).
A Yamaha Performing Artist, Joel can be heard in performances, broadcasts, and recordings with the Melbourne and Tasmanian Symphony Orchestras as well as numerous other ensembles. Joel is also an active performer in Melbourne's early music scene, performing as principal trumpet with the Saint John's Bach Orchestra, Melbourne Baroque Orchestra, and with the Australian Chamber Choir.
A proponent of contemporary music and chamber music, Joel has given solo and collaborative recitals in the United States, Canada, Germany, the Netherlands, the Philippines, Australia and Japan. He is a member of Ensemble Three, a unique trio of trumpet, trombone, and guitar which has been praised as "an inspiring example of forward-thinking classical music culture" and won the 2017 Melbourne Recital Centre Contemporary Masters Award.
Joel received his bachelor's degree from Oberlin Conservatory of Music and before pursuing graduate studies at the Yale School of Music where he is a recipient of the Doctor of Musical Arts degree. Awarded a Fulbright Grant 2007, Joel spent a year performing, teaching, and studying in the Netherlands.
Deeply devoted to teaching, Joel is currently Senior Lecturer in Music Performance at Melbourne Conservatorium of Music (University of Melbourne) and has also been on faculty at Brandon University (Canada). He has been a guest teaching artist at the Australasian Trumpet Academy, Danish/German Brass Academy, and Oberlin Trumpet Workshop. He is the creator of Poper's Game, a unique practice app for trumpet players.
Other Brass & Woodwind Artists