Biography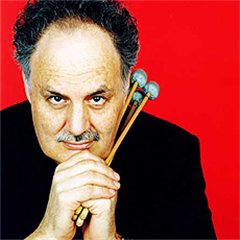 In 1977, Friedman co-founded the unique vibe-marimba quartet, Double Image, which was nominated for a german "Grammy". Their album, "Double Image", was just re-released as a special edition by Enja Records. Friedman's Enja release Shades of Change, with pianist Gerry Allen, bassist Anthonly Cox and drummer Ronnie Burrage, was voted by Downbeat Magazine as "One of the year`s best 20 CD". Friedman`s trio playing with star drummer Daniel Humair and bassist J.F. Jenny-Clarke, documented on their 1992 live release Ternaire, showcases modern, interactive jazz improvisation, ranging from an agressive driving swing to tender lyricism.
As a leader in percussion and jazz education, David Friedman heads the Jazz department at the Hochschule der Künste in Berlin, Germany. As Professor of Jazz studies since 1989. He is also the author of Mirror From Another, Warners Bros. Publications, a collection of pedagogical etudes for the vibraphone and Vibraphone Technique, Dampening and Pedaling, Berklee Press Publications, distributed by Hal Leonard. Mallet players and percussionists worldwide consider this work to be the most important book on the art of phrasing for the vibraphone.
Friedman is a devoted teacher and an inspiration to his students, while still an active performer and composer. Friedman's project with bandoneonist Dino Saluzzi, Astor Piazzola's heir to modern Tango, is a synthesis of American jazz and ethnic improvisation, Gifted bassist, Anthony Cox, completes the trio ..
Perhaps the most unique of Friedman`s accomplishments to date is a solo mallet recording, utilizing multiple vibe and marimba overdubs, creating richly textured soundscapes. This is the first recording of its kind ever done by a mallet performer and is aptly entitled, "Air Sculpture", on Traumton Records. Jazz Friends Review writes: "This music is made of the same fabric dreams are made of. This daring recording is riveting." Germany's Die Woche calls 'Air Sculpture' "a humble masterpiece!".
Friedman's project "Other Worlds" is a trio with an instrumentation and sound all its own, featuring the exciting french accordianist Jean Louis Matinier and the brilliant american bass virtuoso Anthony Cox. Their new CD 'Other Worlds', was recorded in November 1996 for Intuition Records and released in December 1997. It's a spellbinding musical journey, featuring original compositions and improvisational dialogues of incredible depth and beauty. Jazzthetik remarks: "You feel your ears being drawn to the speakers as if by magic! Other Worlds is a true musical adventure".
In addition, Friedman still finds time for special projects, such as being the featured guest soloist with the NDR Big Band in December in a program of his original compositions. He also still tours and records regularly with Double Image, the highly original, ground breaking mallet duo, with his partner of 20 years, Dave Samuels, Sponsored by Yamaha, the duo is often featured at Percussive Arts Society international events and colleges and universities throughout the world.
In the summer of 2001, Friedman invited vocal virtuoso Bobby McFerrin to help celebrate the official 10th anniversary of the jazz department of the University of the Arts. One of the most exciting moments of this sold out concert event was a spontaneous duo with Friedman and McFerrin.
Whether playing solo, in duo with Dave Samuels, Jasper van't Hof, John Taylor, Ferenc Snetberger, or his new Trio, 'Tambour', David Friedman breathes long, fluid, angular phrases into his solos, moving well beyond his instrument's technical limitations. His compositions are the language of harmonic and rhythmic richness with just a touch of irony. His goal is, after all, to communicate.