CBR/Club V Series | Loudspeakers | Yamaha Commercial Audio
Versatile, Rugged, and Road Ready
From small clubs to stadiums, Yamaha has long and storied history of manufacturing innovative, high-quality loudspeakers across the entire live performance spectrum. The CLUB series—currently in its 5th generation model— is a recognized worldwide as an industry standard, while the new CBR was designed in response to an increasing demand for an updated, durable and portable loudspeaker with the versatility to adapt to wide range of applications from FOH sound to monitoring to fixed installation sound reinforcement. Featuring powerful amplifiers with outstanding clarity even at the highest outputs, speaker presets for faster and easier setup, and versatile enclosures with a rugged yet sophisticated design, Yamaha loudspeakers are always up to the task when it's time to hit the road.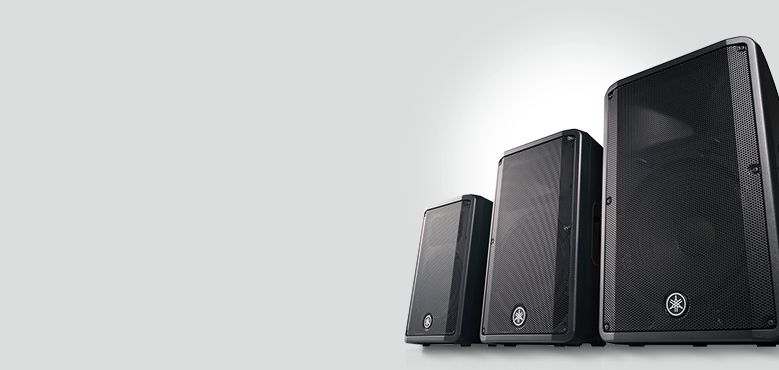 The CBR Series is a new lineup of passive loudspeakers developed by adopting the extensive knowledge of speaker design and acoustic technologies that Yamaha has accrued over a long and storied history of making speakers of every kind. Combining a meticulous materials selection process, thorough customization of the audio components, and a fresh, innovative approach to speaker design, our engineering team's primary focus was to deliver high-power, high-definition sound in a highly portable and versatile design that is equally at home in front-of-house, floor monitoring, or rigged configurations.
Wide-Dispersion Constant Directivity Horn
Smart Enclosure Design for Floor Monitoring
Versatility for a Wide Range of Applications
Model

CBR15

CBR12

CBR10
System Type
2-way Speaker, Bass-reflex Type
Components
LF
15" cone, 2.5" voice coil, Ferrite Magnet
12" cone, 2" voice coil, Ferrite Magnet
10" cone, 2" voice coil, Ferrite Magnet
HF
1.4" compression driver, 1" throat, Ferritex Magnet
1" compression driver, 1" throat, Ferritex Magnet
Frequency range (-10dB)
46Hz - 20kHz
48Hz - 20kHz
50Hz - 20kHz
Nominal Impedance
8Ω
Power Rating (PGM)
500W
350W
350W
Sensitivity (1W, 1m)
96dB SPL
94dB SPL
Maximum SPL (caluculated, 1m)
126dB SPL
125dB SPL
123dB SPL
Floor Monitor Angle
50° Symmetrical
50°
Connectors
1/4" Phone x 1, speakON NL4MP x 1
Material, Color
Plastic, Black
Dimensions (W x H x D)
455 x 700 x 378mm (17.9" x 27.6" x 14.9")
376 x 601 x 348mm (14.8" x 23.7" x 13.7")
308 x 493 x 289mm (12.1" x 19.4" x 11.4")
Net Weight
17.7kg (39.0lb)
13.9kg (30.6lb)
9.4kg (20.7lb)
Flying and mounting hardware
Bottom x 2, Rear x 1 (Fit for M8 x 15mm Eyebolts)
Bottom x 2 (Fit for M8 x 15mm Eyebolts)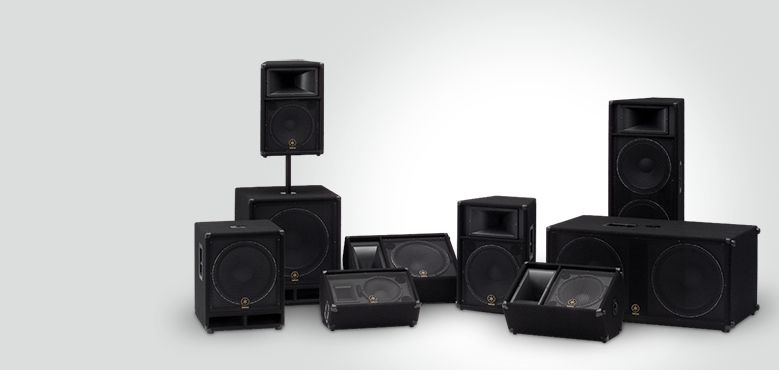 This comprehensive speaker lineup includes three models for front-of-house use, three models for monitoring, and three sub-woofers. The front-of-house speakers are available with 12 inch, 15 inch, or dual 15 inch woofers, giving you a range of choices to suit your needs.
Model
Front Main Speaker

S215V / C215V

S115V / C115V

S112V / C112V
System Type
2-way bass-reflex
Components
LF
15" cone x 2
15" cone
12" cone
HF
CD horn + 2" voice coil compression driver
Frequency range (-10dB)
42Hz - 16kHz
55Hz - 16kHz
60Hz - 16kHz
Nominal Impedance
4Ω
8Ω
Power Rating (PGM)
1000W
500W
350W
Sensitivity (1W, 1m)
99dB SPL
97dB SPL
Floor Monitor Angle
-
Connectors
1/4" phone jack x 2, SPEAKON Neutrik NL4MP x 2
Finish
S215V: Carpet
C215V: Spray
S115V: Carpet
C115V: Spray
S112V: Carpet
C112V: Spray
Dimensions (W x H x D)
495 x 1167 x 597mm (19.5" x 46.0" x 23.5")
489 x 719 x 377mm (19.3" x 28.3" x 14.8")
420 x 632 x 333mm (16.5" x 24.9" x 13.1")
Net Weight
S215V: 47.2kg (104.1lb)
C215V: 47.5kg (104.7lb)
S115V: 29.4kg (64.8lb)
C115V: 30.3kg (66.8lb)
S112V: 20.8kg (45.9lb)
C112V: 21.3kg (47.0lb)
Model
Floor Monitor Speaker

SM15V / CM15V

SM12V / CM12V

SM10V / CM10V
System Type
2-way bass-reflex
Components
LF
15" cone
12" cone
10" cone
HF
CD horn + 2" voice coil compression driver
Horn + 1" voice coil driver
Frequency range (-10dB)
55Hz - 16kHz
60Hz - 16kHz
70Hz - 20kHz
Nominal Impedance
8Ω
Power Rating (PGM)
500W
350W
250W
Sensitivity (1W, 1m)
99dB SPL
97dB SPL
96dB SPL
Floor Monitor Angle
Yes
Connectors
1/4" phone jack x 2, SPEAKON Neutrik NL4MP x 2
Finish
SM15V: Carpet
CM15V: Spray
SM12V: Carpet
CM12V: Spray
SM10V: Carpet
CM10V: Spray
Dimensions (W x H x D)
719 x 483 x 343mm (28.3" x 19.0" x 13.5")
632 x 414 x 351mm (24.9" x 16.3" x 13.8")
560 x 353 x 277mm (22.0" x 13.9" x 10.9")
Net Weight
SM15V: 28.0kg (61.7lb)
CM15V: 28.8kg (63.5lb)
SM12V: 21.4kg (47.2lb)
CM12V: 21.8kg (48.1lb)
SM10V: 13.4kg (29.5lb)
CM10V: 13.3kg (29.3lb)
Model
Subwoofer

SW218V / CW218V

SW118V / CW118V

SW115V / CW115V
System Type
Bass-reflex
Components
18" cone x 2
18" cone
15" cone
Frequency range (-10dB)
30Hz - 2kHz
35Hz - 2kHz
Nominal Impedance
4Ω
8Ω
Power Rating (PGM)
1200W
600W
500W
Sensitivity (1W, 1m)
98dB SPL
96dB SPL
95dB SPL
Connectors
1/4" phone jack x 2, SPEAKON Neutrik NL4MP x 2
Finish
SW218V: Carpet
CW218V: Spray
SW118V: Carpet
CW118V: Spray
SW115V: Carpet
CW115V: Spray
Dimensions (W x H x D)
1221 x 578 x 659mm (48.1" x 22.8" x 25.9")
610 x 728 x 641mm (24.0" x 28.7" x 25.2")
506 x 611 x 532mm (19.9" x 24.1" x 20.9")
Net Weight
SW218V: 65.4kg (144.2lb)
CW218V: 64.7kg (142.6lb)
SW118V: 39.0kg (86.0lb)
CW118V: 37.2kg (82.0lb)
SW115V: 28.2kg (62.2lb)
CW115V: 28.0kg (61.7lb)
CBR/Club V Series | Loudspeakers | Yamaha Commercial Audio