Yamaha Synth 40th Anniversary

History

MU Series

Home
History
Chronology
Product Lineup
News
Artist Comments
Evolution of the MU Series as the Ultimate PCM Tone Generator

TG100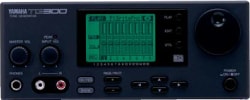 TG300

In the 1990s—the decade when music-production synths such as those of the SY Series started to become commonplace—PCM sound engines became extremely popular all over the world; furthermore, a great many synths without a built-in keyboard, such as rack and desktop types, were released with PCM tone generators at their core. Prior to that, rack-type devices had typically taken the form of effects units, mixers, and other similar devices used by keyboardists as extensions of their tone generators. However, as PCM synthesizers capable of reproducing the sound of acoustic instruments in a realistic fashion started to become widely available at a low price, computer musicians began to adopt this type of unit as a highly convenient sound source.
This development was in part driven by the decision of computer manufacturers to market low-price computers to individual users and families in the nineties, leading to the number of PC owners increasing rapidly, particularly in Japan. Hobbyists could now also make music using their computers, and because this usually happened on a desk, a unique culture that came to be known as "desktop music" (DTM) was born. Recognizing a need, Yamaha launched the TG100 and TG300—a pair of tone-generator units for computer musicians based on the TG tone generator module from our SY Series.
This period was also notable for the arrival of General MIDI (GM)—a major development in the MIDI functionality that had been an indispensable synth feature since being introduced on the DX7. GM standardizes the lineup of voices that synths should provide and paved the way for the sharing of song data. For example, when a compatible instrument receives a Program Change 1 message, it must respond by selecting a piano voice. Similarly, an overdriven guitar voice must be selected in response to a Program Change 30 message. This meant that MIDI-format songs containing multiple voices would sound almost the same on any compatible synth, regardless of which company produced it. Soon after its introduction, collections containing only MIDI-format music data started to go on sale, and the sharing of music data by amateur musicians became popular, further accelerating the DTM boom.
That said, the GM standard was intentionally narrow in its scope in order to ensure a high degree of compatibility. In specific terms, the total number of voices was limited to 128 instruments and one drum set, and very little was standardized in regard to audio effects. For this reason, there was a limit to how expressive GM songs could be.
Other instrument manufacturers thus developed their own tone-generator standards, and these started to make inroads into the domestic Japanese market. In addition, a large number of MIDI-song collections for desktop musicians based on those standards went into circulation. Against this backdrop, Yamaha began work on designing a new format that would far surpass the others, and this was released in 1994 as Yamaha XG (EXtended General MIDI).


MU80

MU100

MU100R
Covering a vast array of voice and effect parameters, the XG format sets forth requirements for both tone generator and data. As such, any MIDI data based on this format and played using a compatible tone generator would produce music almost identical to that on the original instrument, even to the level of subtle nuances. In addition, data produced on high-quality, advanced models could be played without any problems on lower-end synths, making the XG format highly popular with a wide range of different users. Our first synthesizer to support this new format was the MU80 of 1994.
In addition to a high-quality PCM tone generator, the MU80 was also equipped with an analog-to-digital input, allowing a guitar or microphone to be connected and processing applied freely using the on-board audio effects. Thanks to these and other powerful features, the MU80 soon developed a reputation as a revolutionary instrument ideal for guitar practice, karaoke, and a broad array of other applications. It was succeeded by the MU90, which in turn was followed by the MU100—a high-performance tone generator module for a new generation of users.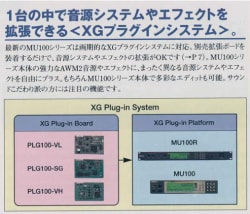 Text from the CBX catalog (1997)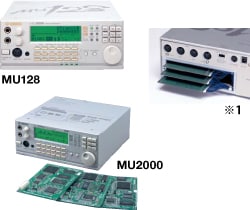 *1: Expansion slots at the rear of the MU128
Because the XG format was designed as an expandable common specification, the functionality of compatible tone generators could be further developed without restriction. This allowed us to equip the MU100 with a plug-in board system, extending its tone generation capabilities and making it an even more expressive musical instrument.
The synthesizers of the MU Series were originally released as compact half-rack units in consideration of the needs of desktop musicians. In order, however, to cater for the North American market, where tone generator modules were frequently mounted in a rack, we subsequently introduced an MU100R rack-mountable type. As two different plug-in boards could be inserted into this larger unit simultaneously, it was extremely valuable to the user and also became very popular in Japan.
Following our release of the MU80, which energized the XG-format tone generator market for desktop musicians, new models were added almost every year. In 1998, we introduced the MU128—a 128-note polyphonic synth that could produce twice as many simultaneous notes as the previous year's MU100. With this vastly enhanced model, sounds could be played on up to 64 parts (or channels) at the same time. In terms of size, we maintained the half-rack dimensions but made it taller, meaning that three plug-in boards could be installed at the same time.
One year later, we introduced the MU1000 and MU2000 tone generator models. In addition to compatibility with the GM Series Level 2 (GML2) standard, which had been developed as an extension of GM, the MU2000 also provided the functionality of a simple sampler. These and other features made it a powerful synth engine that performed far beyond what would typically be expected of a DTM product.
As the DTM market started to shrink, Yamaha brought the MU Series to an end in 2000 with the MU500—a lower-cost edition of the MU1000. Nevertheless, the tone generators of this series are still put to frequent use by a great many desktop musicians. In addition, the technologies perfected in their development live on today in a wide range of products, such as song players for karaoke—the enduring symbol of Japanese music culture—and backing-track tone generators for digital pianos.
Plug-in boards—Secret Weapon of the MU Series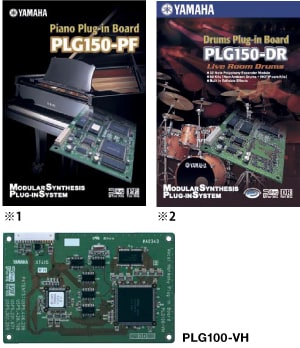 *1: PLG150-PF package
*2: PLG150-DR package
Plug-in boards are essentially electronic circuit boards that can be inserted into a synthesizer in order to expand its tone-generation and effect functionality. Upon our release of the MU100, we simultaneously introduced the PLG100-SG (see Simultaneous development of new tone generation systems), the PLG100-VL for VL tone generation, and the PLG100-VH, which could be used both as a vocoder and to apply harmony to any part.
We subsequently released the PLG-100DX, which featured an FM tone generation system like that of the DX7, and the PLG100-XG, with specifications similar to the MU50. Rather than being limited to our MU Series instruments, plug-in boards contributed greatly to Yamaha's entire synthesizer business from the latter half of the nineties through to the mid-2000s.
We revamped our plug-in board lineup under the PLG150 product name in 1999, introducing the PLG150-VL for VA tone generation, the PLG150-DX for FM, and the PLG150-AN as an analog physical modeling tone generator. These boards were compatible with the S80 and CS6x and could also be used with the MOTIF Series synths released in 2001. In addition, they were soon followed by the PLG150-PF for piano and both the PLG150-DR and PLG150-PC for percussion sounds. Far from being a favorite of only the desktop musician, this plug in system was put to great use by all kinds of synthesizer users.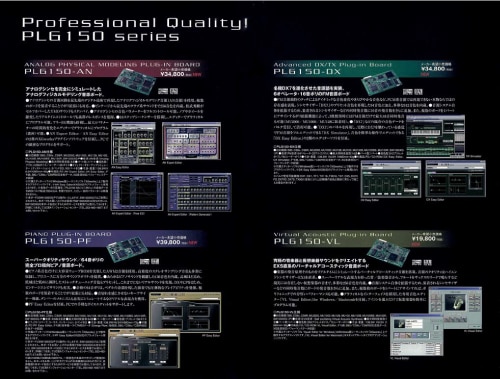 A page from the MSPS catalog (1999) describing plug-in boards
Yamaha Synth 40th Anniversary

History

MU Series