---
My first bass heroes were guys like Abe Laboriel and John Patitucci, and as a kid I used to dream of one day owning a Yamaha TRB bass like they did
---
Biography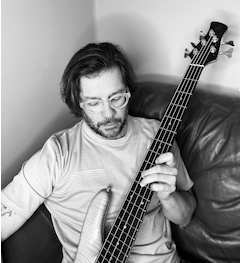 Mark's introduction to bass was being thrown a bass before a local church service and just told "to play". This accidental intro would evolve into a love of the instrument and a successful career.
Australian born and bred, Mark has travelled the world playing professionally for over 20 years, and in that time played music with some of Australia's top artists including James Morrison, Guy Sebastian, Dami Im, Karise Eden, Lai Utovou, Ellen Reed and many more.
Mark has an innovative approach to playing the bass, experimenting with a multitude of techniques and styles. He has appeared on hundreds of albums and is sought-after as a solid sideman, producer and in recent years, a band leader of his original music. As band leader, Mark presents a high energy mix of funk, soul and world music. In 2018 Mark released his debut EP, The Sound of Light which won the Soul/Funk/R'n'B category at the Queensland Music Awards 2019.
Mark is best known for his solid, flamboyant playing, improvisation, even temperament and relaxed vibe.