---
I've been working with Yamaha for nearly ten years now, and as a 'mutli-instrumentalist' they've been incredible in terms of facilitating my creative journey. Whether it's a kick drum which I'm experimenting with, adding snare samples to double kick pedals, a beautiful acoustic guitar for a studio performance, or a PA system I can power off a solar panel in my camper van - Yamaha have been there with really solid products and an open mind about how my music can be communicated to the world. I love them dearly.
---
Biography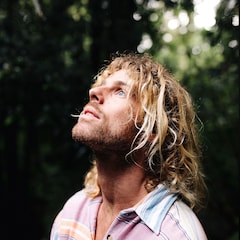 At 29 years of age Kim Churchill has already achieved some incredible things as a professional musician. He's recognised as much internationally as he is in Australia, having performed headline shows, festivals and supports alike all over the planet. Notable performances include Glastonbury, Splendour in the Grass, Falls Festival, Montreal Jazz, Telluride Blues, and supports with Milky Chance, Billy Bragg, Michael Franti and Nahko and the Medicine People.
Known for his magnetic, dynamic stage presence, Kim unites lyrical artistry with fierce vocals; he is a sonic architect – using his guitar to create landscapes, which animate his lyrics.
In late 2017 - Kim released his new album "Weight_Falls" and debuted at #6 on the ARIA charts, featuring hits "Second Hand Car" and "Breakneck Speed".
Moving ahead into 2020 Kim is releasing a collection of four EP's titled I Am Forgetting The End Again - each ep having been recorded in a different part of the world with a different producer. Last year Kim released I Am (recorded in Berlin) and Forgetting (recorded in Canada) and toured International across Canada, Europe, South Africa, and the United States. He is set to release the third EP, The End, in November of this year.
Other Guitar & Bass Artists