Biography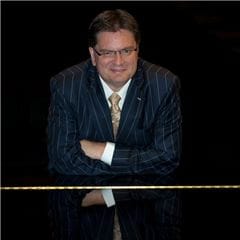 Legg was born in Hobart in 1964, trained as a classical pianist, composer and educator but is best known for his work as a powerhouse gospel and soul pianist, steeped in the African American tradition and community. He has an enviable and well-established international reputation as pianist, arranger and writer, performing with some of the most respected gospel choirs and artists in the USA including Take 6, Kristian Dentley, Alvin Chee, Marvin Weatherford, Myron Butler (Levi and Potters House), James Abbington, the late Dr Horace Boyer and the world-dominating Kirk Franklin.
Legg continues his long-standing relationship with multi Grammy award winning gospel artists Myron Butler (God's Property, Kirk Franklin, Levi, Potters House) and Khristian Dentley (Take 6, BoL). Together they have formed a songwriting and production team that has produced two award-winning albums, with two hit gospel songs (My Forever Friend and Let Freedom Ring). The 'three amigos' (!) have also formed the team that has underpinned the incredibly successful gospel workshops in the internationally acclaimed Festival of Voices. Dentley and Legg have now taken their dynamic partnership to a completely new level, with a 'gospel boot-camp' workshop they tour internationally, and to critical acclaim.
Legg founded the now iconic 130-voice Tasmanian Conservatorium Southern Gospel Choir in 2000, and their debut CD, Great Day was nominated for an ARIA (World Music) in August of 2005, and along with musical partner, Badloves founder and longtime friend Michael Spiby, have now released the SGC's much anticipated second studio album, High On A Mountain, and first DVD, Brighter Day. Legg toured his 90-voice SGC and band across the US in 2014, selling out houses in Atlanta, Dallas, Tuskegee and Las Angeles, including a live broadcast from the 8000-seat filled-to-capacity Potters House church that reached over 5 million viewers world-wide.
The SGC2USA Tour represented a culmination of some 15 years work. This project toured 90 Tasmanians including singers, band and support staff, and cost in excess of $600,000, all of which was raised by the SGC themselves, the Tasmanian community and UTAS. The SGC was supported by Khristian Dently (Take 6) and Myron Butler (Levi, Potters House), and played to capacity audiences of in excess of 8000 at the Potter House in Dallas, and then across the Southern USA including Alabama, Georgia, and then finally to LA.
Legg is a long time friend and colleague of Brian Ritchie (Violent Femmes, MONA), having performed in a variety of forms, including an impromptu grunge and blues band for a local whisky club, as well as with the SGC at MONA for huge crowds, unofficially kick-starting the Hobart Summer Festival for the last 3 years. Together with inspirational vocalist and creative co-conspirator Maria Lurighi, they all share a passion for music in all its forms and glory, together taking twists and turns that confound the critics, mesmerize and surprise their audiences, but always with uncontainable joy. Legg has also written 15 specifically commissioned works for orchestra and film, including Let Freedom Ring for Tasmanian Symphony Orchestra and is a past 'feature artist' for the Gospel Music Workshop of America.
Legg is currently Associate Professor and Director of the Tasmanian Conservatorium of Music, and Deputy Head of the Tasmanian College of the Arts, at the University of Tasmania. Legg is also one of the two key lead academics charged with the development of the University of Tasmania's Creative Industries and Performing Arts Development. Known now as the 'Hedberg', the building will be a contemporary landmark, co-located with and enhancing Hobart's beloved Theatre Royal. It is one of Tasmania's most ambitious arts projects – a $90 million creative industries and performing arts development.
Once complete, it will encompass the Theatre Royal, the University Conservatorium of Music and the Creative Exchange Institute (CxI), a new research institute with a focus on performance, design and creativity. The project is being realized as part of, and will further contribute to, our state's cultural and artistic resurgence. The design will incorporate cutting-edge technologies and inviting public spaces to enhance Tasmania's position as a leader in the creative, performing and digital arts. The precinct aspires to be a destination that delivers a vibrant and exciting place for a range of audiences - the general public, tourists, researchers, educators, students and audiences.