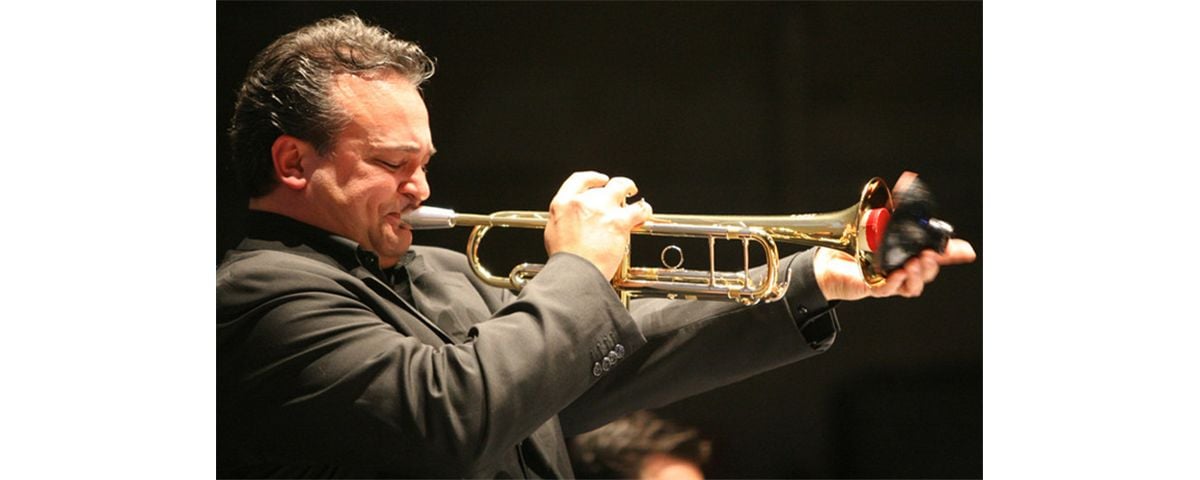 Biography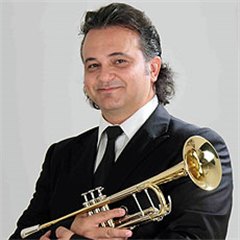 Andrea Tofanelli is one of the most outstanding trumpet players in the international jazz scene. Born in Italy, he already performed with almost all great jazz musicians all over the world.
Andrea was born in Viareggio (Lucca, Italy) on July 26, 1965 and began to study music and trumpet in 1976 in the wind ensemble of his village with some musicians close to Dean Benedetti, the famous italo-american jazz saxophonist mentioned in all official Charlie Parker biographies. In 1979, at the age of 14, Andrea started working with some local semi-professional big bands and commercial music groups, and in 1984 he began performing professionally in the classical music field, while simultaneously attending the Conservatory at the "Istituto Musicale Pareggiato L. Boccherini" in Lucca (Italy). In 1987 Andrea finished his Conservatory studies with the highest marks, graduating cum laude. That same year he studied with Armando Ghitalla (soloist trumpet with the Boston Symphony Orchestra and teacher at the University of Michigan) and started his first jazz studies with O. Valdambrini and S. Fanni, trumpet soloists of the RAI national network Big Bands in Rome and Milan.
In the jazz music field, Andrea has performed with great jazz musicians like Maynard Ferguson and his Big Bop Nouveau Band (in Italy, London and United States 2000/03/05/06), Randy Brecker and Claudio Roditi (Luxemburg Trumpet Summit 2007), Peter Erskine (1996 Italian Tour), Kenny Wheeler, Denis DiBlasio, Tom Harrell, Paul Jeffrey, Dave Liebman, Dusko Gojkovich, Carl Anderson, Lee Konitz, Frank Foster, Till Brönner, New York Voices, John Taylor, Palle Daniellson, Valery Ponomarev, Lew Soloff, Ernie Hammes, Wayne Bergeron, Roger Ingram, Eric Miyashiro, Carl Fischer, Reggie Watkins, Lew Soloff, Walter White, Jon Crosse, Craig Woods, Jim McFalls and George Rabbai and many others.
On September 20th, 2006, he has been invited to perform as soloist at the "Maynard Ferguson Tribute" at the Touhill Performing Arts Centre in St. Louis (USA). Moreover, Andrea has been invited performing as soloist at the 2008 and 2010 International Trumpet Guild in Canada and Australia. In 2008 he received the Visa O-1 for Extraordinary Ability in the Arts for working in the USA from the American Government.
Andrea recorded several solo CDs and as a session player, he has recorded more than 200 albums from Pop through to Jazz. He also frequently performs on TV Shows, Soundtracks and TV Commercials.
Starting from 2006 he collaborates with the Paul Anka orchestra, both in Europe (European Tours 2007 and 2008) and in the USA.
In Italy, Andrea has accompanied many famous artists from all over the world including big names such as George Michael ("Pavarotti & Friends for Cambodia and Tibet 2000," released on video and CD by Decca), Burt Bacharach, Joe Cocker, Tom Jones, Michael Bublè, Dee Dee Bridgewater, Gloria Gaynor, Carl Anderson, Randy Crawford, Amy Stewart, Donna Summer, Matt Bianco, Kid Creole & The Coconuts, The Gibson Brothers, Samantha Fox, Imagination, Patrick Hernandez, Tony Hadley, Paul Young and Petula Clark.
In the classical music field, in 1988 Andrea won the national auditions for the Italian Youth Orchestra as well as the "Teatro Comunale del Giglio" of Lucca, and he was selected as a finalist in Rome for the ECYO (European Community Youth Orchestra). In 1989/90 he fulfilled his military compulsory service playing in the Italian Air Force Band in Rome. He still collaborates with some prestigious Italian symphonic orchestras such as the "Orchestra Regionale Toscana", the "Orchestra Sinfonica dell'Emilia-Romagna A. Toscanini", the "Orchestra Filarmonica del Teatro Regio di Torino", the "EUR Spettacoli" and the "Orchestra da Camera Lucchese."
From jazz, though classical to pop music, Andrea has performed all over the world.
As a teacher, Andrea teaches trumpet and jazz improvisation at the "Istituto Superiore di Studi Musicali "O.Vecchi - A.Tonelli" in Modena, Italy. He was also an assistant at Maynard Ferguson's seminar during the Vicenza Jazz Festival 2003. Andrea also gives seminars for YAMAHA and collaborates with Santa Fiora International Festival – Italian Brass Week (where he gave master classes with the first chairs of the Chicago Symphony Orchestra brass section, Allen Vizzutti and the Canadian Brass international artist Jens Lindemann). As international jazz and trumpet educator, Andrea gives master classes and seminars all over Europe and the United States and appears in Clint "Pops" McLaughlin's book "Embouchure - The Pros Talk" and for an instructional video on trumpet playing.
Since 2000 he is also the Artistic Director of the "Dean Benedetti Jazz Festival" in Torre del Lago Puccini.
Andrea Tofanelli is a Yamaha artist.
Other Brass & Woodwind Artists